In Support of Busan International Film Festival_TAN Pin Pin (Filmmaker / Singapore)
"In Support of Busan International Film Festival"
- Tan Pin Pin, Singapore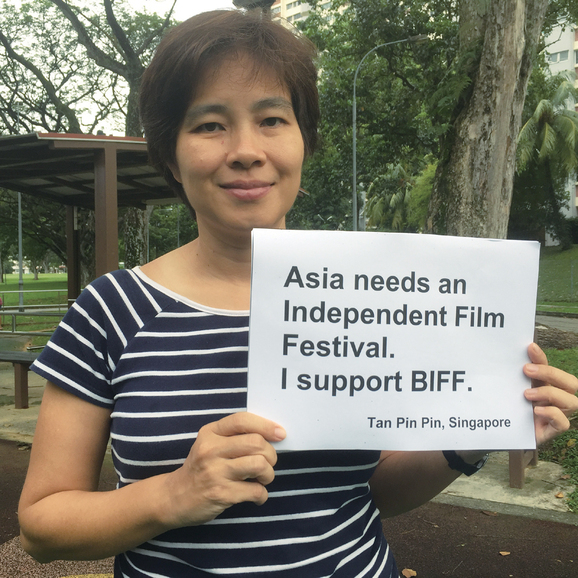 When I finished my film To Singapore, with Love, a film about Singapore political exiles, I had an inkling that the film might be banned in Singapore because previous films that questioned our official narrative were banned in Singapore too.
I knew I wanted to world premiere the film at Busan International Film Festival (BIFF). BIFF's programming is broad and inclusive, its audiences keen and curious. The Asian Network of Documentary Fund had also supported the film.
The day I sent the film off to BIFF, I felt immensely relieved. It would be safe there. On the day of its premiere, Busan was hit by a once in a decade typhoon. Though the rain was howling outside, inside the Busan cinema was calm, the focus was on the flickering light on a screen. But this calm was short lived, back in Singapore, the film was banned. Screenings in Malaysia and Thailand were cancelled too.
The welcoming and supportive environment which nurtured my work and the work of so many other film directors would not have been possible without independence and freedom from political intervention of the festival. The festival must be allowed to focus its energies on films. It should not need to answer to the politics of the day.
In these disquieting times especially in this part of the world, we filmmakers and film lovers need a home, if not at in our own countries, then near home, to be ourselves as we come together to make connections and be quietly transformed by what we have seen together.
BIFF has spent two decades building up this precious space. As with all things good, this space must be fought for. Hence I wish all my friends in BIFF the energies and focus for the journey ahead. This is something important and worth standing firm for. Thank you for everything.
#keepBIFFfree
#IsupportBIFF
Tan Pin Pin